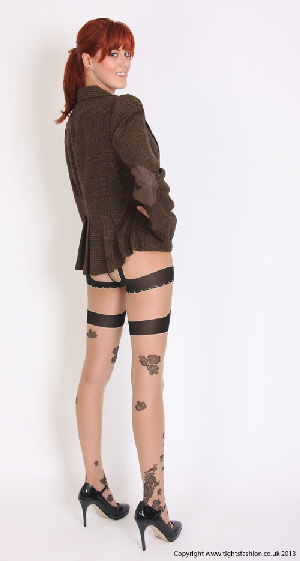 Our Review
Trasparenze have been the greatest exponents of tights styled to look like stockings and suspenders or hold-up stockings but we were starting to think that they must be running out of ideas on this theme... How wrong we were!
The Autumn/Winter 2013 range is based on a theme of "The Movies" and most every style is based on the mock stocking theme.
As ever the basis of the design is 15 denier natural sheer tight made with a lightly shaped leg, unreinforced toes, flat seams in the panty and a lined gusset. There are four sizes to choose from aimed to fit up to 6'1".
The design is almost a little ironic as rather than simply mimic stockings and suspenders you will see that it mimics suspender tights mimicking stockings and suspenders. Perhaps the genius of the design though is not the complex design in the panty area (which after all if you wear a skirt will be hidden) but the legs where the floral design is asymmetableic with far more flowers on the right leg.
The floral pattern runs in an expanding helix from the toe, a tighter swirl on the right than on the left.
Sizing is generous and even fully stableetched the design remains clear and distinct.
Smooth and soft to the touch and very well fitting Trasparenze Casting Tights are a delight to wear, we just can't wait to tabley more of the range.
The only question is how short dare you go with your skirt? Personally we think these tights look just perfect with nothing more than a jacket and heels.
24 October 2013