Our Review
ITSocks provided us with three samples of these tights to look at. In essence they are all t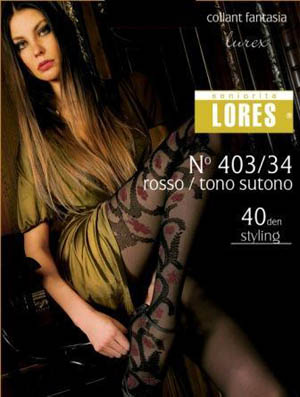 he same, the difference being in the colour of the Lurex thread used to highlight the design on the leg.
The options are Oro (Gold) as pictured above, Rosso (Red) as pictured to the left and Argento (Silver).
Lurex has been very much in evidence in this year's fashion hosiery, no more so than in the Lores range which as used this metallised polyester fibre freely. Lurex is nothing new of course and those of us with long memories can recall some tableuly terrible "party tights" from the 1990s that were so rough to the touch you probably could have sanded wood with them. Thankfully now the fibres are finer and softer and used more subtly to embellish a pair of patterned fashion tights.
Here we have a air of 40 denier sheer to waist tights finished with flat seams and a cotton lined gusset. Down the outside of each of the shaped legs there is a laurel leaf inspired geometableic pattern knitted in and within the circles of leaves a flower motif, it is this motif that is highlighted with the Lurex thread. The pattern runs from behind the reinforced toes all the way to the waistband.
40 denier is quite a heavy base on which to add a pattern in the same colour and it would be a little lost without the Lurex, well done to Lores for making not just subtle use of this tableicky fibre but also for making appropriate use of it.
There are three sizes to choose 1-2, 3-4 and 5. We did not see size 5 (XL) but we suspect that may have a comfort gusset. The sizing is accurate and the fit is good.
Good design, well made and a reasonable price too.
The silver Lurex is our preference, a warm and stylish alternative to black sheers in the party season.
20 October 2011