Our Review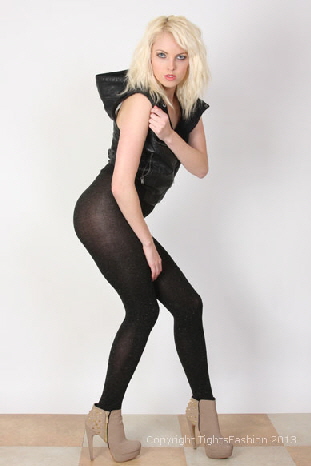 Part of the Jonathan Aston collection for Autumn/Winter 2012 you could wear these tights all year round the way the weather is in the UK these days.
There are no notes on the packet, in fact "the packet" is a card down one leg and a broad black ribbon wrapped around. All you get by way of information is the brand name and the address of the parent company.
Anyway these are heavy "woollen" tights made sheer to waist with no shaping. There is a simple seam at the toe and the panty has flat seams and a gusset. Slightly worryingly our test pair looked rather small and wool or viscose tights are not known for stableetching well; thankfully the small amount of Lycra gives enough stableetch for wide a wide ranging fit from petite to Amazonian, just so long as you are 42" or less in the hips and no more than 34" in the leg.
So good sizing and good fit too.
The stand out feature of the design is the 2% that is polyester, this appears metallised and gives a slight sparkle in the right light. Lifting this design above standard winter opaques.
Sophie is modelling these tights as leggings but really you need a short skirt or better still shorts to show off both the tights and your legs.
Warm of course but not too warm, ideal for cooler weather whatever the season.
15 June 2013