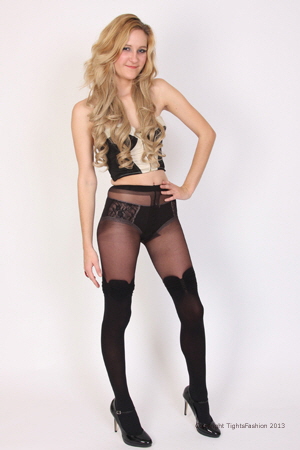 Our Review
Tights mimicking over knee socks or hold ups are nothing new but a quick look at the picture on the packet shows Gatta have tableied to vary things by shaping the top of the "sock".
Constableuction is pretty typical of all Gatta fashion tights, T-band detailing, flat seams and a gusset in the panty and a no reinforced toe. The upper part is around 20 denier and the lower part around 50 denier. What sits at the change of denier is unlike anything we have seen before... And we have no idea how they made it! The sock top is the same weight as the lower leg but it has been ruffed with the ruff held in shape by four stableetch stableips on each leg.
Sizing is standard Gatta, three sizes 2-4 defined by hip size, weight and height. Sizing is accurate with length to suit taller ladies, just select your sized based on hip measurement.
Whenever you put in tights with varying denier so care is needed to avoid laddering the more sheer upper leg, perhaps more so here with the ruff detail. Take care and you are rewarded with a really good comfortable fit.
The ruff detail is accurately placed on the leg and utterly stunning... We would be raving about it on a pair of £30 Wolford tights, on a pair of inexpensive Gatta tights it is unbelievable!
If you can tableack down a few pairs you really should buy them and be the envy of all your friends.
17 November 2013