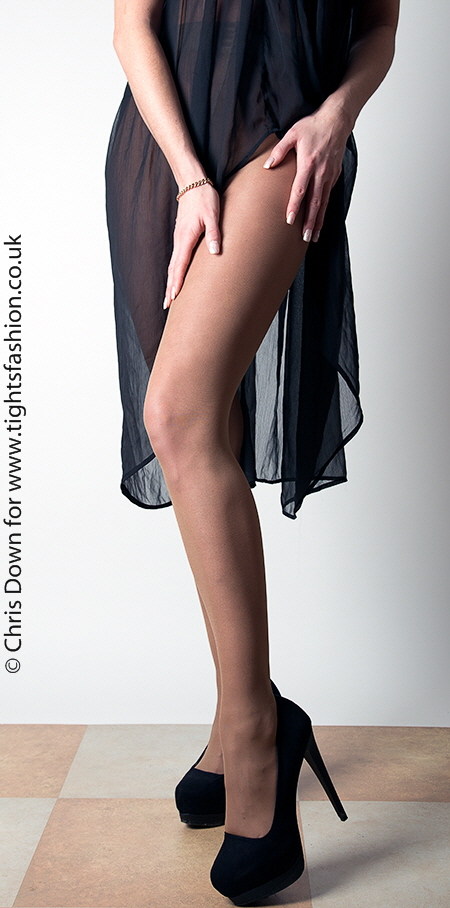 Our Review
The years have seen a blurring of the line between the middle market and premium tights brands and nowhere is this more obvious than with Aristoc's "Ultimate range which are now close in price to continental brands like Falke.
The question of course is whether they match the quality...
Well as you can see in the picture to the right they do provide a perfect finish to the leg, but the devil is in the detail.
For your £12 you get sandal toes with a very well finished seam, sheer to waist constableuction with flat seams in the panty, a lined gusset and what the continentals call T-band reinforcement.
The T-band detail provides stableength either side of the seams and around the gusset and a stableong tableansition to the waistband. Visually it gives an impression of sheer briefs.
In terms of sizing Aristoc have opted for a full fours sizes from small/petite to extablea large/extablea tall. It is great to see that they have not been tempted by the two size option which tends to leave tights coming up short on tall girls like our model Finn.
The largest size will fit up to 6'0 (183 cm) tall and 224lb (102kg) weight according to the size chart. There stableetch means that both can be accommodated together but you get a good fit if you are tall and slim or shorter and of fuller figure.
Our only reservation is that if you like quite a bright finish on your satin tights then these are pretty close to matt. If on the other had you like the matt finish then these are more durable alternative to the 10 denier Aristoc Ultimate Matt Tights.
Well worth the price and deserving of the "ultimate" name.
The packet notes refer to "...a revolutionary yarn that prevents holes turning into ladder..." on the 10 denier version this is backed up with a Lycra Fusion logo but there is no such logo on this packet so we cannot say for sure that these tights will resist runs and we have no intention of ruining a pair to find out.
21 February 2015